---
---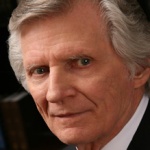 AP:
Rev. David Wilkerson, founding pastor of New York City's Times Square Church and author of the 1963 best-seller The Cross and the Switchblade, died Wednesday afternoon in a head-on traffic collision with an 18-wheeler in East Texas, local CBS station KYTX reports. He was 79.

Also injured in the crash on the Neches River bridge was Wilkerson's wife, Gwendolyn Wilkerson, and another woman. A Texas Department of Public Safety representative said Wilkinson was not wearing a seatbelt.

The pastor's death was confirmed by his family in a statement appearing on the Wilkerson's World Challenge http://www.worldchallenge.org/ Web site. "We appreciate your prayers and our hearts are sorrowful, yet we rejoice at the joy of knowing David Wilkerson spent his life well," the statement said.

The Cross and the Switchblade chronicled Wilkerson's early years in New York City tending to drug addicts and gang members. It sold 15 million copies in 30 languages and was made into a 1970 movie starring Pat Boone (as Wilkinson) and Erik Estrada.